Now that you have a great address for your business and a great office to meet your new clients, now what?
How about having a website set up with online marketing for your site? Did you know that we can do that too?
The Met Center AV is home to several internet marketing and web design companies located right here in the Antelope Valley.
The Met Center has partnered with and M-Powered Marketing Solutions
Fill out our contact form today, or give us a call at 661-874-4333 to get started.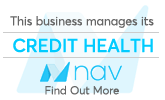 Business Credit by Nav